UPDATE: The hike was a blast! Frigid blustery weather kept all but the hardiest at bay, and those who turned up were champs. Great conversations, with plenty of sun to go along with the gale, were had by all!
Be sure to check out hiker and AASCEND member Isaac Haney-Owens' April 28, 8pm interview on KGO radio, where he'll be talking about his work at Creativity Explored.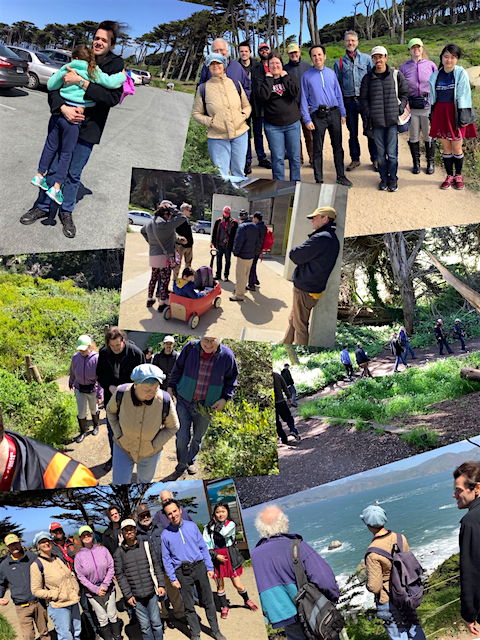 Now for something completely similar! At AASCEND's April 20 meeting we'll be reprising our popular Spring hike (more like a walk) at San Francisco's beautiful and easy-walkin' Lands End. Come revel together in the calming natural world so many autistic people enjoy.
The hike is as always a chance to all get to know each other better and to enjoy El Niño's spring bounty (no kidding!) in one of the more gorgeous places on Earth – right here in San Francisco! There is food at the Lookout Cafe and Visitor Center where we'll meet, but you might want to bring a snack.
When: Sat Apr 20, 10am – noon(+)
Where: Lands End Lookout Cafe and Visitor Center 680 Point Lobos Ave, SF, CA 94121 – located in the parking lot near 48th Ave & Pt. Lobos Ave. map
There is parking in the mentioned lot by the Visitor's Center and also a smaller lot across the street and along El Camino del Mar. The 38 bus line stops at 48th Ave & Pt Lobos Ave. about 100 yards up from the Lookout.